Alexander Technique Courses for Horse-riders
Mind-Body-Awareness offers Alexander Technique courses for horse-riders to help you learn how to use your body and mind more effectively to release unhelpful tension in your body and enhance communication with your horse.
Course: Transform your riding with the Alexander Technique
Venue: Fit4Life Pilates & Fitness Studio, Gilbert House, 1 Haig Road, Parkgate, Knutsford, Cheshire, WA16 8DX
Access: There is a flight of stairs to access the studio. Please enter through the main doors then press the Fit4Life button to open the door. Turn left up the stairs and we're on the left at the top of the stairs. Thanks.
Date: Saturday 23 June 2018
Time: 12.45-4.00pm (Please arrive a few minutes early)
Cost: £35 per person (paid in advance)
Other Information: Please bring a blanket and wear comfortable clothing to allow ease of movement
Booking Information: To reserve your place, please complete the booking form and return with your payment preferably by on-line banking or alternatively through the post. The payment details are provided on the booking form. For on-line bookings please click on the link at the bottom of the page. For postal payments please print an Alexander Technique booking form from the Downloads section in Resources.
Course Details: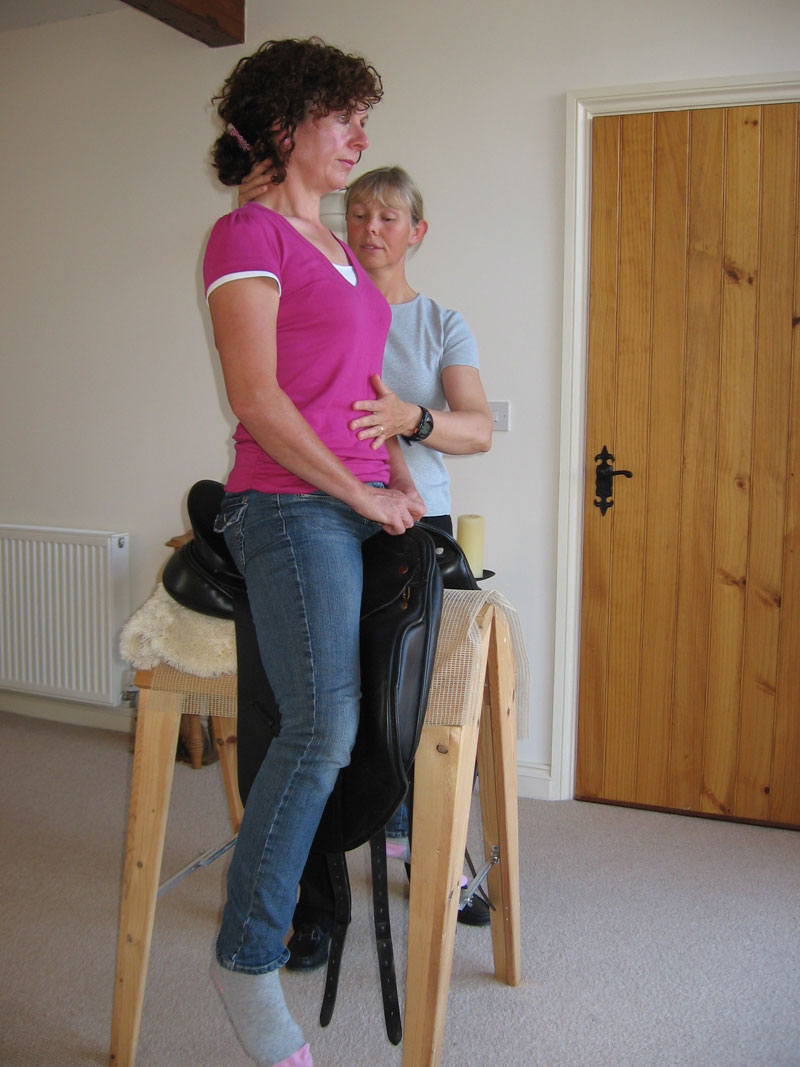 The aim of this half day workshop is to introduce the Alexander Technique to horse-riders. Alexander Technique training can help to transform unwanted habits of mind and body that block effective communication with your horse, enabling you to develop a more connected and sensitive partnership.
You'll learn to develop a more relaxed focus of concentration and release unhelpful tension in your body, enabling you to use less effort and develop greater freedom in your joints. This enables your horse to move with more ease and fluidity beneath you. Very quickly, your whole relationship with your horse can change.
Not only can the Alexander Technique transform the way you approach your riding, but it can also transform your horse, reducing spookiness and resistance and helping him or her to be more relaxed and in front of the leg, more focused on you and lighter in the contact.
Course content:
Using a mixture of discussion and practical work (group, pair and individual) we will explore:
How to rebalance your head on your spine
You'll learn how to let your head balance naturally on your spine without forcing or holding it in place. When our head tips forward, it throws us out of balance and makes it more difficult for our horse to carry our weight. As a result, our horse will compensate and also become out of balance.
When we pin our shoulders back and force our head up, we use more tension than we need, which in turn makes our horse tight and stiff. We learn to use just the right amount of muscular effort for our body to remain balanced, so our horse can remain balanced and connected to us.
How to reduce tension and resistance in your horse
There is an emphasis on how to use the breath to help calm and settle both you and your horse. You'll learn how to soften your eyes and widen your vision. This changes your focus from being fixed and determined to being more relaxed and open, which your horse will relate to more easily. This helps to reduce spookiness, napping and resistance in your horse, so that he/ she becomes more relaxed and in front of the leg.
How to release and deepen your seat
Some of the learning takes place while lying down with the knees pointing upwards and head slightly raised, so that you can learn to let go of tension in your neck, shoulders, back, pelvis and hips. Releasing tension in these areas will allow your seat to deepen and become more fluid, so that you can follow the movement of your horse more easily.
How to refine your contact and lighten your hands
As you learn to let go of excess tension in your shoulders, arms and wrists and learn to integrate your arms more effectively into your body, you'll find that your contact with your horse becomes more refined. You'll feel more connected to your horse and your hands will be able to receive the movement and energy from your horse more effectively with a lighter, more sensitive contact.
Bringing Alexander Technique into daily life
To get the most out Alexander Technique training, we learn to apply it to everything we do… when mucking out, filling water buckets and haynets, taking rugs off and on, tacking up, walking to the field, sitting in your car and living your life. The more you practice it, the greater the benefits you'll experience when you're riding.
Who is the workshop suitable for?
The workshop is suitable for adults with all levels of physical fitness and of all ages. There is no physical exercise, but there will be some gentle, slow movement. All activities are optional. Participants only need to take part in those activities that they feel comfortable doing.
Make a booking
Find out more information about our Alexander Technique courses for horse-riders and view the next available dates and locations.